Washburn's Lee Arena set for renovations thanks to $1 million CapFed gift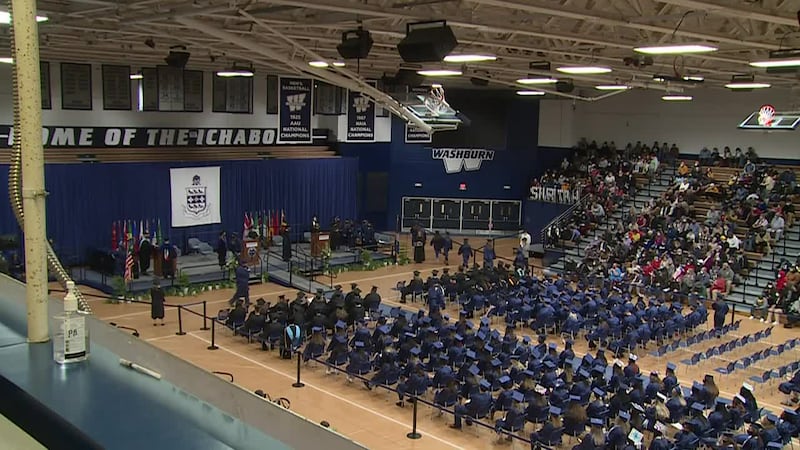 Published: Sep. 6, 2023 at 12:27 PM CDT
TOPEKA, Kan. (WIBW) - Washburn's Lee Arena is set to get a $1 million facelift thanks to a gift from the Capitol Federal Foundation.
On Wednesday, Sept. 6, Washburn University announced that the Capitol Federal Foundation donated $1 million for upgrades to be made at Lee Arena - home of the Ichabods basketball and volleyball teams, as well as major campus and community events.
"Lee Arena is a place where we celebrate Washburn students from convocation to commencement," said JuliAnn Mazachek, president of Washburn. "In addition to these signature events, this space welcomes numerous community events and provides the home court for our volleyball and basketball teams that regularly compete on the national stage. We are thankful to Capitol Federal for not only their generosity and leadership but also their shared vision for this space and its importance for the student body and the community."
University leaders noted that the project will be divided into two phases. The first will focus on the replacement of the court, better seating options, upgrades to technology and a new multi-purpose room on the north end of the arena. The second will highlight the creation of a new home for the sports medicine program, renovations to the locker rooms, aesthetic updates to the concourse and renovations of entrances to improve the fan experience.
"Capitol Federal's commitment to Washburn Athletics over the years has greatly impacted all of our student-athletes through scholarships, their support of the Indoor Athletic Facility, and now Lee Arena," said Marshall Meek, president of the Washburn University Alumni Association and Foundation. "Their generosity is a testament to how much they want to see Washburn and the community continue to thrive, and we thank them for their leadership."
WU noted that Lee Arena opened in 1984 and draws some of the largest crowds in the NCAA Division II. It is also the first MIAA school to have a video board and digital scorer's table. Tens of thousands converge on the facility each year for community events.
"Our nice facilities help serve as a strong student-athlete recruitment tool and encourages others to invest in Washburn Athletics initiatives," said Loren Ferré, director of Washburn Athletics. "We thank Capitol Federal for their continued leadership for our student-athletes and all they do to help us create a program of excellence."
Officials indicated that the partnership between Washburn and Cap Fed goes back many years. The Capitol Federal Foundation's first major gift went to the Living Learning Center and created the Capitol Federal True Blue Scholars program. The foundation has supported renovations at Stoffer Science Hall, the Capitol Federal Athlete Strength and Conditioning Center in Whiting Fieldhouse, the Indoor Athletic Facility and the Leadership Challenge Event.
"Lee Arena has always been an important gathering place for both Washburn students and the Topeka community at large," said John Dicus, chief executive officer of Capitol Federal. "We're proud to have such a strong connection to Washburn University, and to contribute to the improvements that will advance Lee Arena's status as a premier location for Washburn Athletics for generations to come."
University officials did not say when renovations are expected to begin or when the project is expected to be completed.
Copyright 2023 WIBW. All rights reserved.