Alabama state lawmaker agrees to plead guilty to voter fraud
Published: Aug. 31, 2023 at 5:11 PM CDT
MADISON COUNTY, Ala. (WAFF/Gray News) - Alabama House District 10 Rep. David Cole, R-Huntsville, has resigned and signed a plea agreement following his arrest Tuesday for voter fraud.
Cole was charged with voting at multiple or unauthorized locations, a Class C felony, and booked into the Madison County Jail, where he was later released on a $2,500 bond.
According to court documents, Cole "did knowingly vote in the November 8, 2022, general election at a polling police where he had not been authorized to vote, to wit: within the boundaries of Alabama House District 10..."
In 2022, questions of Cole's residency were raised before the election as it was discovered that he signed a rental agreement in November 2021 just days before the filing deadline.
In May 2023, a nearly three-hour-long deposition was conducted for Cole brought by Libertarian Elijah Boyd at the Alabama State House.
The court document stated that Cole voted absentee in the primary election on May 24, 2022, using the address of a home in District 10, where he rented a "5x5 area" for $5 a month.
In the runoff election on June 21, 2022, Cole voted in person at a polling place where he was not authorized to vote because he had falsely used the same home's address to register within District 10. In the weeks prior to the primary election, Cole provided an altered copy of his lease, which stated that he was renting the entire house instead of the "5x5 area."
Six weeks after Cole provided a third party working for him a lease for Ashbury Apartments, he completed another online voter registration update which certified that he lived at the apartment. He then used the apartment address to vote in the general election on Nov. 8, 2022, at a polling place where he was not authorized to vote. In addition to that, on Dec. 1, 2022, Cole completed a property-tax exemption document in which he certified that as of Oct. 1, 2022, he lived in the Cedar Springs House, which is located in District 4.
Cole entered a guilty plea as part of an agreement on Aug. 24. According to the agreement, "the parties agree to recommend to the Court that the Defendant be sentenced to three years in the Alabama Department of Corrections, split to serve 60 days in the Madison County Jail." The remainder of his sentence would be served on unsupervised probation.
He also agreed to "pay as restitution all money earned or received by virtue of his employment and/or service as a member of the Alabama House of Representatives." This will include Cole's salary, any stipends, any per diem and any other expenses or reimbursements received by Cole through said service and employment.
Another part of this agreement was that he was to resign from his position with the Alabama House of Representatives. On Aug. 30, Cole submitted his letter of resignation.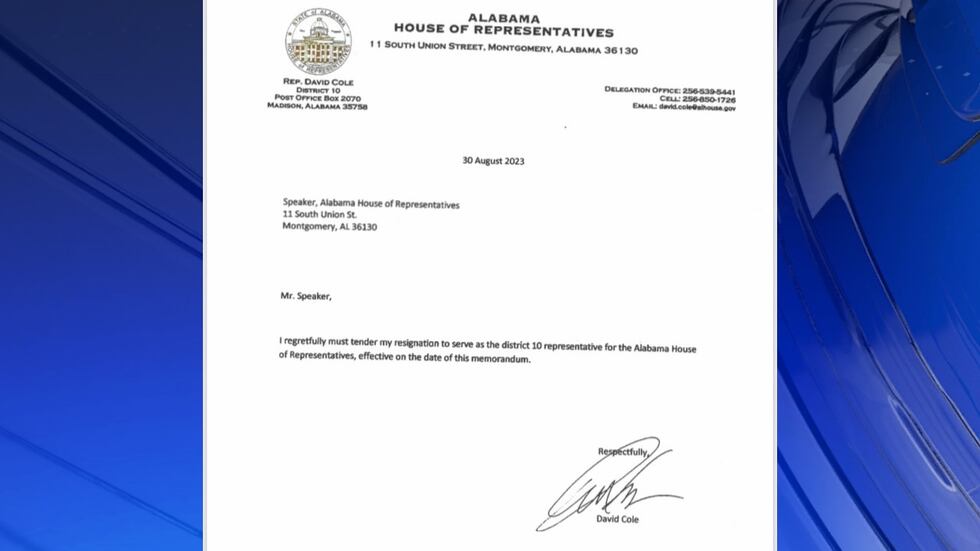 Cole's attorney, William Espy, released the following statement on his behalf:
Dr. Cole admits and takes full responsibility for the mistakes he made in the political process. He entered the process to serve his community. He has lived a life of service including serving for 22 years in the Army with tours in Iraq, Afghanistan and Egypt. The Cole family appreciates all the prayers and support from his friends and community during this time. Dr. Cole will continue to serve his community going forward.
Barry Ragsdale, Boyd's attorney, provided a statement on his behalf about Cole's arrest.
Mr. Cole, by lying and then attempting to cover up his lies, managed to turn a simple election challenge into a career-ending and life-altering felony. It is a shame that it took months of costly litigation and two trips to the Alabama Supreme Court to force him to answer the straightforward question of where he really lived. The voters of Madison County deserved better and have been done a great disservice by a politician who thought he was above the law.
Speaker of the House Nathaniel Ledbetter, R-Rainsville, on Tuesday issued the following statement on Cole's arrest:
This afternoon, the Speaker's Office became aware of David Cole's arrest on the charge of fraud—voting at an unauthorized location. As this is an ongoing investigation, we are still waiting to learn more details as they become available.
In recent years, the Alabama House has prioritized legislation that promotes election integrity, and we believe that any allegation of fraud must be addressed regardless of the party, public official, or candidate involved.
Alabamians may remain confident that their elections are conducted honestly, their votes are cast and counted fairly, and their ballot boxes are secure. Now, it is up to a court of law to determine the validity of the allegations Cole is facing, and I anticipate Alabama's election laws will withstand their true intent.
WAFF has reached out to Cole's office and has not received a response.
Copyright 2023 WAFF via Gray Media Group, Inc. All rights reserved.