KU Athletics announce enhancements for football gameday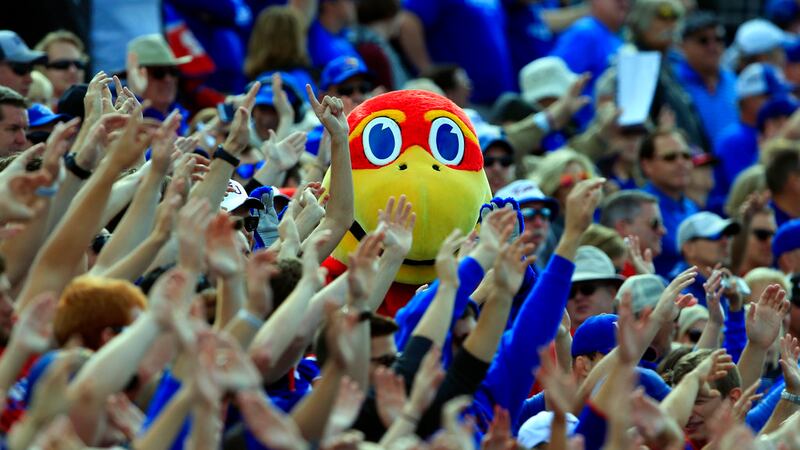 Updated: Aug. 29, 2023 at 6:00 PM CDT
LAWRENCE, Kan. (WIBW) - Fans can enjoy a variety of new enhancements on gameday this season.
The Kansas Jayhawks will host seven games this season, including the season opener against the Missouri State Bears this Friday. The gameday enhancements will once again add to the overall fan experience.
See below for a breakdown of this year's gameday enhancements.
New Hawk Walk
New for 2023, the Jayhawks will walk down "The Hill" to the locker room two hours and 15 minutes before kickoff. The players will be dropped off near the Campanile, with Hawk Walk taking place as they walk down the Hill. Fans can line the walk and greet their favorite players as they arrive.
Mobile Tickets and Parking
New for 2023, all tickets and parking passes will be accessible via mobile device for increased efficiency. Fans are encouraged to download the Kansas Jayhawks Mobile App and download tickets to their mobile wallet before arriving at the stadium to decrease wait times. For more information on mobile tickets and parking, view the mobile tickets guide.
Concessions Happy Hour
Concessions Happy Hour returns! From 90 minutes to 30 minutes before kickoff, fans can enjoy concessions happy hour. This offer allows fans to get items like hot dogs, popcorn, nachos, pretzels, and beverages (sodas and beer) at a discounted price. The happy hour pricing can be found at these select stands on the lower-level concourse: 4, 6, 21, and 23.
New Concessions Offerings
Fans can expect new food options around David Booth Kansas Memorial Stadium, including additions such as Pizza Hut, Uplift Coffee, and Biggs BBQ. All concessions are now 100% cashless and take all forms of credit and debit cards, including Apple Pay and Google Pay.
Gameday on the Hill Presented by Electric Park
Fans can enjoy the re-imagined Gameday on the Hill before every game during the 2023 home season. They will experience entertainment from local cover bands, DJs, and food trucks at the bottom of the Campanile hill.
Gameday on the Hill will feature a fan tailgate that includes open-air and tented seating and socializing areas, TVs, tailgating games, light snacks, and a cash bar. For more information, click here.
Activities on the Hill begin three hours prior to kickoff. There's fun for everyone, including an expanded Family Fun Zone, tailgating games, kids activities, and more on the practice fields.
Student Giveaways and Events
Students can expect a variety of giveaways and events throughout the 2023 season, including free student tailgates with food and activities for select games (Missouri State, UCF, Kansas State).
There will also be student giveaways every game on a first-come, first-served basis. This includes a student jersey giveaway to the first 2,000 fans against Missouri State on Friday's season opener.
Live Sideline Host
Returning from the 2022 season, Kansas Football games will feature a sideline personality to serve as an in-game host to help bring the energy on gamedays.
Pyrotechnics
As the Jayhawks take the field, the team entrance will feature the return of the "Hollow K" formation from the Marching Jayhawks for the team to run through in addition to added pyrotechnics.
K Club Flag Raising
Before each home game, a former Kansas Jayhawk student-athlete will continue the tradition of raising the gameday flag on the stadium's north end to honor the program's history.
Stadium Signage Enhancements
Fans can also expect a new look around David Booth Kansas Memorial Stadium, with new branding and signage.
Copyright 2023 WIBW. All rights reserved.