KBI & CCSO renew public information request for missing Pittsburg woman on 30th anniversary
Updated: Aug. 18, 2023 at 3:05 PM CDT
CRAWFORD COUNTY, Kan. (WIBW) - The Kansas Bureau of Investigation (KBI) and the Crawford County Sheriff's Office renewed their request to the public for any information regarding a missing Pittsburg woman on the anniversary of her disappearance.
Ginger May Hudson was 33 years old when she went missing from Pittsburg, Kansas, on August 19, 1993. This Saturday will mark 30 years since she suddenly disappeared.
According to authorities, Hudson was last seen by a neighbor around 3:30 p.m. outside her mobile home — one-eighth of a mile north of 560th Ave. on 180th St. in Pittsburg. When Hudson's boyfriend arrived home around 7:30 p.m., Hudson was gone, but all her belongings had been left behind.
Hudson is a Caucasian female, 5 foot 4 inches tall, and weighs around 150 pounds. She had auburn hair, hazel eyes, and a surgical scar on the inside of her bottom lip. Hudson was last known wearing a white, sleeveless shirt and dark-colored shorts. Today, she would be 63 years old.
Hudson had four young children. The KBI and Sheriff's Office believe it would be unlike her to leave abruptly, and foul play is suspected in her disappearance.
The KBI and Crawford County Sheriff's Office urge anyone who knows even the slightest detail related to Hudson's disappearance to contact the KBI at 1-800-KS-CRIME, or the Crawford County Sheriff's Office at 620-724-8274. Information can also be submitted anonymously at https://www.kbi.ks.gov/sar.
The investigation is ongoing.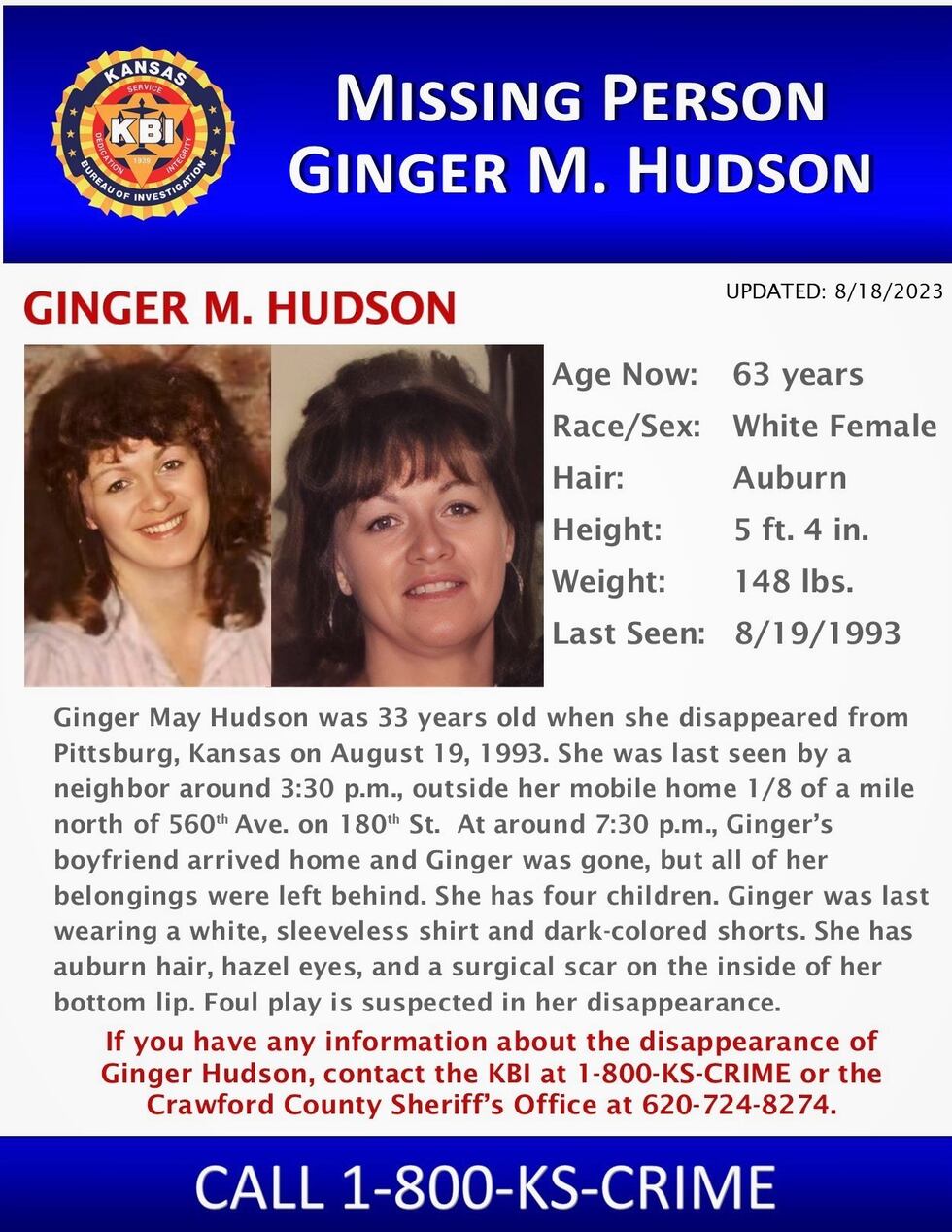 Copyright 2023 WIBW. All rights reserved.