WATCH: Law enforcement officials give update on threat at Ford plant deemed 'not credible'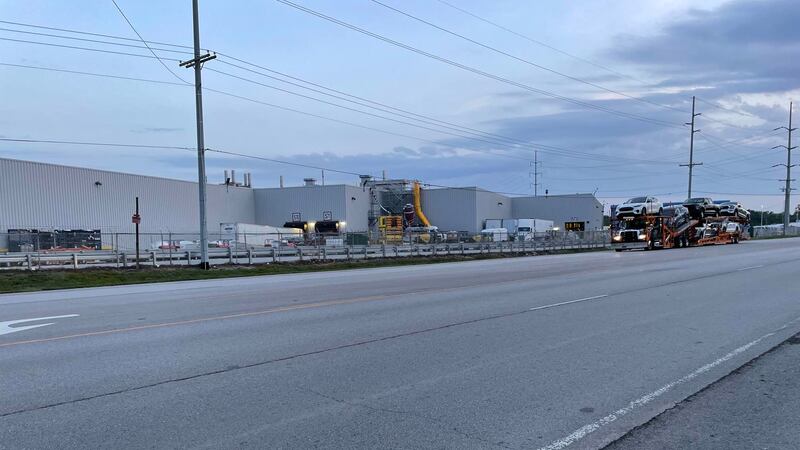 Published: Jul. 18, 2023 at 7:44 PM CDT
|
Updated: Jul. 19, 2023 at 10:42 AM CDT
UPDATE (7/19): Law enforcement announces arrest in hoax threat to Claycomo Ford plant
CLAYCOMO, Mo. (KCTV) - Authorities are calling a threat at the Ford plant in Claycomo 'not credible' Wednesday.
Employees have returned to work at the plant. Officials announced a press conference at 10 a.m. Wednesday with the latest information. Of course, KCTV5 will be on hand for that report.
No injuries were reported. The plant is located at 8121 U.S. 69 Highway. The highway was shut down there due to the ongoing investigation and the public was being asked to avoid the area.
Sarah Boyd, the public relations manager for the Clay County Sheriff's Office, spoke with media near the scene.
She said that at about 5:20 p.m., Ford's Safety and Risk Management Team received a call from a man who claimed to be armed and barricaded in a bathroom within the paint area on the second floor. The security team took that call; it was not made to 911.
That man claimed to be armed with explosives, a rifle, and a handgun.
While he claimed to be a disgruntled employee, the first name he claimed was his did not match anyone who works in that department. He did, however, have the name of a supervisor who worked there.
The sheriff's office was unable to establish contact with the man since that initial call.
They checked the phone number, Boyd said, and it may be a spoofed number. A spoofed number is when one phone number shows up as someone else's.
"It is possible this is a swatting call, but we will treat the threat as real until we can prove otherwise," the sheriff's office said.
The Special Tactics and Response Team entered the building and searched for the man. Negotiators are on scene but, again, were unable to make contact.
Production was shut down at the plant for the night and the building evacuated.
Matthew Chrisman, who lives nearby, rushed out of his home when he heard there was a possible threat at the plant across the street.
"I'm just hoping that they are okay and if something went down, that they were able to stop it before it got bad," he said.
"I don't know what's going through my mind," he said. "It's not normal. I'm just hoping there is a good outcome."
Copyright 2023 KCTV. All rights reserved.