Expansion still a focus for Big 12 after record $440M revenue for 10 current schools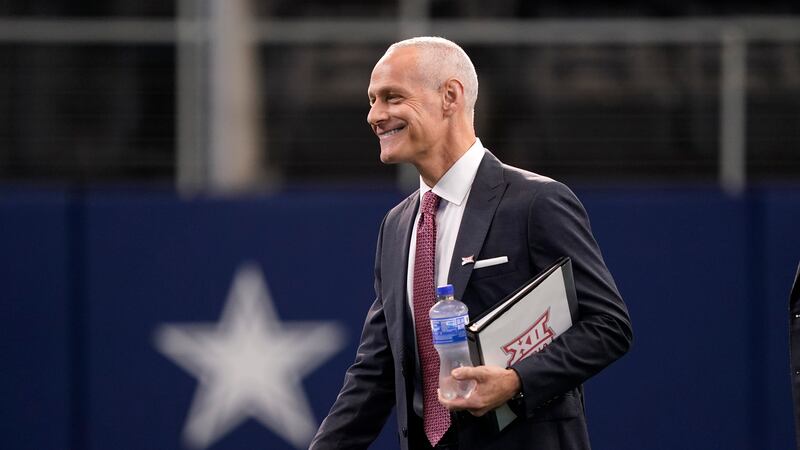 Published: Jun. 2, 2023 at 4:49 PM CDT
(AP) - Big 12 Commissioner Brett Yormark said expansion remains a focus for the conference, which wrapped up its spring meetings Friday with a record revenue distribution of $440 million to split among its 10 current schools.
Less than a year after becoming the commissioner, Yormark said there was a "great discussion" about expansion during the meetings held for the first time in West Virginia.
"We have a plan. As I've said all along, we have an appetite to be a national conference in our makeup from coast to coast. And we do believe in the upside of basketball moving forward as a collective group," Yormark said. "That being said, we love our current composition, love the four new schools that are coming in next month. However, if the opportunity presents itself to create value, we will pursue it."
The Big 12 will expand from 10 to 14 schools on July 1 when BYU, Central Florida, Cincinnati and Houston officially join the league. Those additions come a year before the departures of Oklahoma and Texas to the Southeastern Conference.
The $440 million distribution for the 2022-23 school year is up from $426 million last year, and Yormark said that number will continue to grow in the future.
Big 12 officials last fall extended their media rights deal with ESPN and Fox Sports through the 2030-31 school year, which goes through the upcoming departures of the only current members with football national championships. That deal, which includes football and basketball broadcasts, was set to expire in two years.
While Yormark didn't get into specifics about potential expansion, he acknowledged "football is the driver," but the league would explore all options and considerations at the proper times.
Yormark was asked if future expansion candidates would have to be full members, or could there be potential additions without football, such as a school like Gonzaga.
"We see the upside in basketball moving forward for all the right reasons. We think it's undervalued and there's a chance for us to double down as the No. 1 basketball conference in America," Yormark said.
"There have been conversations, obviously, about what would happen in that next TV cycle. Certainly nothing can be done now, nor should it in fact," he said. "But as we think about the future and ways to create value, there is always that option to decouple basketball from football, to see if there is further value we can create for the conference. And we have positioned ourselves to do so at that point in time, if the opportunity presents itself and it makes sense."
Among other items from the spring meetings:
— Yormark said the league is doing a branding refresh over the next year, but it won't include changing the league's name or logo.
"A refresh is just taking the current visual identity and just contemporizing it and modernizing it," he said. "We're not changing our logo at this point in time. But how do we showcase it maybe with different colors and different applications."
— There were discussions about extending contracts with the league's existing championship sites, including AT&T Stadium in Arlington, Texas, for football, as well as Kansas City for men's and women's basketball, and Oklahoma City for softball.
— The league plans to unveil as early as next week an international strategy focused on Mexico.
"It will outline our strategic plan why we're doing it, the rationale behind it, how we're going to enter the market, who we're partnering with," Yormark said. "We're truly excited about our international plans and and getting into that market sooner than later. "
Copyright 2023 The Associated Press. All rights reserved.