Topeka High School principal Rebecca Morrisey says good-bye to Halls of Troy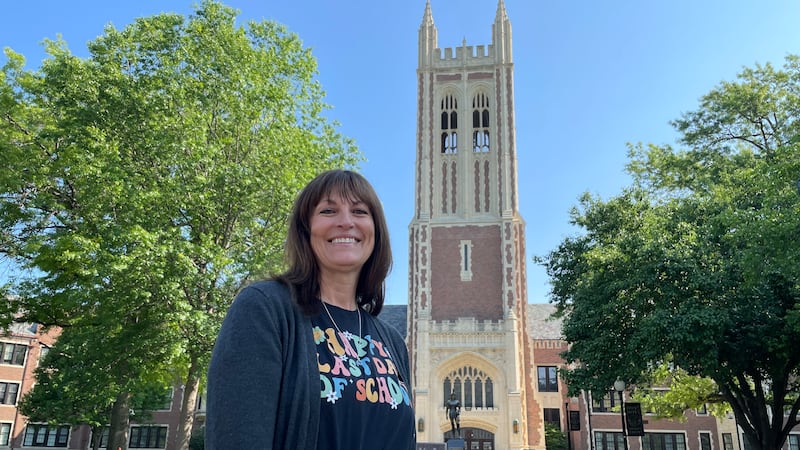 Published: May. 24, 2023 at 3:57 PM CDT
TOPEKA, Kan. (WIBW) - As Topeka High Principal Rebecca Morrisey stood in the first-floor hallway Wednesday morning between classes, a student stopped by to give her a hug.
The student said she was going to cry, being that it was Morrisey's last day of school as principal of Topeka High.
A few minutes earlier, Morrisey said 40 years was long enough in education -- a tenure that included time as a classroom; as a four-time state champion in girls basketball; as a college basketball coach at Rockhurst University in Kansas City, Mo.; and finally as an administrator in Topeka Unified School District 501, including stints as principal at both Eisenhower Middle School and Topeka High School.
Morrisey in typical fashion credited her fellow administrators and staff at Topeka High School for their dedication and hard work, noting that the primary goal was to do everything possible to help students.
This past Friday, Morrisey, 61, announced that she was retiring at the end of the current school year so she could spend more time with her adult children and grandchildren.
Still, Morrisey said, it seemed a bit "surreal" on Wednesday morning, realizing this would be the last day she'd serve as principal while classes were in session at the downtown Topeka school, 800 S.W. 10th Ave. She said she knew from the get-go that Topeka High would be the final stop on her journey in the field of education.
Those who worked alongside Morrisey noted her passion for the school -- including its history and its uniqueness in terms of the diversity of its students.
Morrisey served as Topeka High's principal for the past seven years, beginning with the 2016-17 school year. She guided the school during the COVID-19 pandemic and saw the school's graduation rate rise from around 73 percent when she arrived to around 95 percent when she wrapped up her career.
As she stood outside the historic Topeka High building, Morrisey said the school was far bigger than any one person -- herself included -- and that the next person to be in the principal's office no doubt would bring a fresh perspective to the school.
"We've had generations and generations of people who come in," Morrisey said. "I tell kids they leave their mark on the Halls of Troy.
"You leave your mark for a time wherever you are and then someone else steps in and does it. We're all replaceable, so to speak. And it's not that we're replaced -- it's that it's time for somebody else to bring a little bit more vision, to take a little bit different look at it and to keep it improving.
"And if you don't do that, you can get stagnant. And I think it's just time. We've accomplished a great deal, but somebody else is going to look and find that next thing that keeps serving kids well."
Topeka Public Schools officials say a search for the next Topeka High School principal is ongoing.
Copyright 2023 WIBW. All rights reserved.