Seniors can soon apply for $50 in coupons for authorized farmers' markets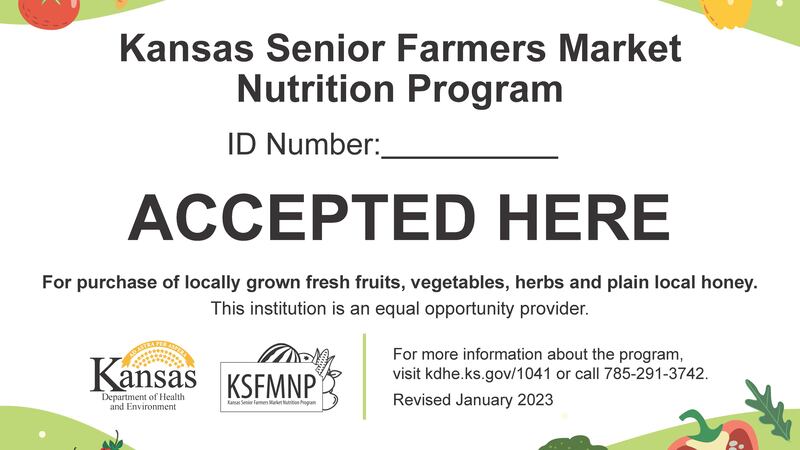 Published: May. 23, 2023 at 1:21 PM CDT
TOPEKA, Kan. (WIBW) - Seniors with a limited income in the Sunflower State can soon apply for $50 worth of coupons for vendors at authorized farmers' markets.
The Kansas Department of Health and Environment announced on Tuesday, May 23, that the Kansas Senior Farmers' Market Nutrition Program is set to increase the value of coupons from $35 to $50 for low-income seniors.
The KDHE noted that the coupons are given on a first-come-first-serve basis. Seniors can apply for the coupons at local distribution agencies between Thursday, June 1, and Friday, Sept. 1, or until all coupons are spoken for.
The Department indicated that coupons will be sent to users immediately and will be available in $5 increments. They can be redeemed from authorized vendors at participating farmers' markets - identified with signage that shows vendors are authorized to accept the coupons.
Officials said eligible seniors include those who complete an application and are 60 years or older or at least 55 with a membership to an Indian Tribal Organization. Those eligible are also required to have an annual gross income at or below 185% of the federal poverty level.
The KDHE said eligible foods for purchase with the coupons include those from authorized farmers at participating farmers' markets with food defined as fresh, nutritious, unprepared, locally grown fruits, vegetables, locally produced honey and cut herbs produced in Kansas under normal growing conditions.
"The KSFMNP helps support Kansas seniors and our local Kansas farmers at farmers' markets," said Courtney Koenig, KSFMNP coordinator. "The program is great because it brings new people to the markets, increases sales for farmers and provides nutritious foods to people who need it."
To find a local distribution site, click HERE.
For more information about the coupons, click HERE.
Copyright 2023 WIBW. All rights reserved.