Kansas City, we are on the clock: NFL Draft Day is finally here.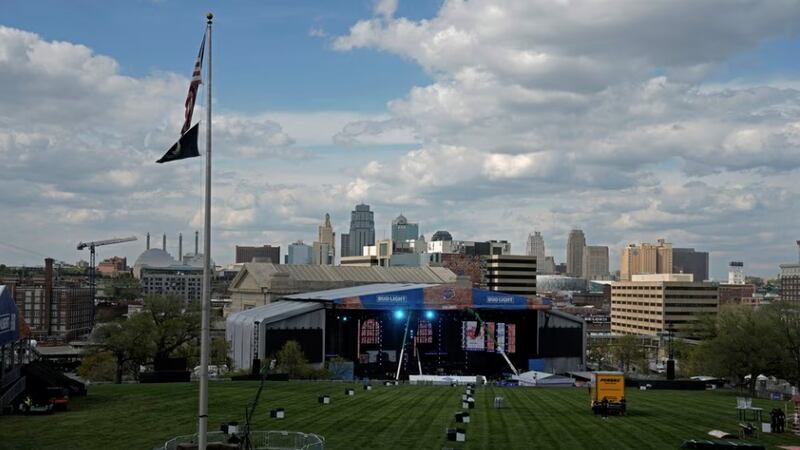 Published: Apr. 27, 2023 at 5:00 AM CDT
|
Updated: Apr. 27, 2023 at 12:23 PM CDT
KANSAS CITY, Mo. (KCTV) - From 1,437 days ago to Thursday, April 26, 2023. The long-awaited and greatly-anticipated day has arrived. Kansas City is hosting the 2023 NFL Draft.
The City of Fountains has been the center of the NFL world since February when the Chiefs hosted a fifth straight conference championship and secured a second Super Bowl title in four years.
A parade followed, attracting hundreds of thousands of fans to the downtown area and ultimately the lawn between Union Station and the WWI Memorial. And Thursday through Saturday, crowds in the tens of thousands, perhaps greater, are expected to attend the NFL Draft.
When does it all start?
The NFL Draft Experience on the Memorial's north lawn opens at 12 p.m., and a special Chiefs Kingdom Experience for Kansas City fans will be available, as well. Anyone interested can register for free access. at www.nfl.com/draftaccess or by downloading the NFL OnePass app via www.nfl.com/onepass.
The NFL Draft's Red Carpet will begin at 4:45 p.m. on the Memorial Courtyard at the National WWI Museum and Memorial.
The NFL Draft festivities will get underway upon completion of the Red Carpet.
Who will be there?
Seventeen NFL prospects will attend the Draft, all likely to hear their names called on the opening night.
After the Red Carpet event, Kansas City's own Oleta Adams will perform "Lift Every Voice and Sing" live from a location downtown, and then Brittney Spencer will sing the national anthem from the National WWI Museum and Memorial.
Kimmi Chex, a Kansas City native, will also host activities in the Draft Theater for the first night of the draft. The NFL Draft begins at 7 p.m.
Lost Wax, a party band from Kansas City, will perform as the house band at the Draft Theater, providing entertainment in between Draft selections each day.
The Jonas Brothers announced that they would make an appearance during Day One of the NFL Draft and release a new single called "Celebrate."
Eric Stonestreet and Heidi Gardner, along with Kansas City Chiefs players and Legends will take part in a variety of special moments throughout the Draft.
At the conclusion of the first round Thursday night, the Grammy-nominated rock band Fall Out Boy will take the stage for a concert.
How can I get there?
There will be multiple parking lot options along the existing route of the KC Streetcar and RideKC bus routes, offering connections to the site of the 2023 NFL Draft presented by Bud Light site.
Parking will be available throughout the Downtown area in the Crossroads Arts District, Central Business District, Crown Center, River Market, Westport and Country Club Plaza. For a full view of parking garages in proximity to the NFL Draft site, visit the interactive map below.
Parking Along the Streetcar Route
Parking along the KC Streetcar line is also allowed but vehicles must park within the painted white lines along the route. This means that every portion of the vehicle, including the side mirrors, must be inside the painted white lines. This is to ensure that the streetcar has clearance to run along the tracks without any interference. Since a streetcar cannot swerve, it cannot move out of the way of parked vehicles. Vehicles should also never park on the streetcar tracks. Find out more at kcstreetcar.org.
KC STREETCAR AND RIDEKC BUS
In an effort to ease traffic congestion, locals and out-of-town visitors are encouraged to use the following convenient ways to access Downtown. The Kansas City Police Department reminds fans to lock vehicles and stow valuables when cars are unattended.
KC Streetcar
The KC Streetcar will be in service leading up to and during the 2023 NFL Draft, operating with extended hours during Draft dates:
Thursday, April 27: 6 a.m. to 2 a.m.
Friday, April 28: 6 a.m. to 2 a.m.
Saturday, April 29: 7 a.m. to 2 a.m.
Starting on Wednesday, April 26, and continuing throughout the Draft, the Union Station streetcar stop will be closed to passengers. All other streetcar stops will be open and operating at normal levels. The KC Streetcar can be taken to the Crossroads stop at 19th & Main for the closest entry access point to the NFL Draft Experience presented by Panini Trading Cards and Draft Theater.
Board the Streetcar at major areas such as River Market, Downtown KC, and the Kauffman Center. After exiting the Streetcar at the Crossroads stop, it's just a 15-minute walk to the 2023 NFL Draft presented by Bud Light site.
Passengers, pedestrians and automobile traffic will not be able to access Main Street south of 20th Street during this time. Pedestrians should use Grand Blvd. for access to the NFL Draft site.
The KC Streetcar is FREE to ride for the entire 2.2 miles through Downtown Kansas City. Find more information at kcstreetcar.org and sign up for service alerts by texting "streetcar" to 816-685-8541.
RideKC Bus
RideKC bus service is fare-free at all times. MAX is Kansas City's bus rapid transit line that will run through the Downtown area to the 2023 NFL Draft presented by Bud Light site. The route will operate along Penn Valley Drive. After exiting the bus at the 29th St. stop, it's just a 5-minute walk to Main Entry 1 to access the 2023 NFL Draft presented by Bud Light.
For more information about RideKC MAX service visit the official site here.
Park and Ride
Free park-and-ride service will be available from the West Bottoms Garage, just north of Hy-Vee Arena, from Thursday, April 27 to Saturday April 29. Shuttle service from the garage to Summit St. will be available for drop-off and pickup. Prebooking is required to ride the shuttle. For more information and to reserve tickets, return to this page soon. It is approximately a 10-minute walk from the drop-off location at Summit St. to Entry 2 of the 2023 NFL Draft site. This will be the only park-and-ride option.
Rideshare Drop-Offs
When you're ready to head to the Draft, a ride is just a few taps away. Simply enter "National WWI Museum and Memorial" as your destination and your driver will take you to the designated rideshare drop-off zone (curbside on East 27th Terr.) From there, follow signs to access Main Entry 1. The entrance is about a 10-minute walk.
Rideshare Pickups
Due to security policies and road closures, pickups are not permitted on the roadways in and immediately around the Draft site. When you're ready to leave, exit via either Entry 1 or Entry 3, then request a ride from one of the designated rideshare pickup zones:
From Entry 1: 27th Terrace at McGee Trafficway
From Entry 3: McGee St. near Pershing OR Grand Blvd. near SEA LIFE Kansas City
Road Closures to May 7
Westbound Pershing Rd. will be closed between Broadway St. and Main St.Access to Union Station Kansas City and Union Station's West Yard Garage remain open via Broadway Blvd. to Pershing Rd.
Road Closures to May 7
Main St. between 20th St. and Grand Blvd.

Pershing Rd. (both directions) between Broadway Blvd. and Grand Blvd.

Kessler Rd. between Pershing Rd. and Wyandotte St.

Memorial Dr.

OK St.
ACCESSIBILITY RESOURCES
If you are in need of assistance entering the 2023 NFL Draft presented by Bud Light site, please enter through Entry 3 on East Pershing Rd. outside of the Westin Kansas City at Crown Center. For questions, reach out to a representative at the NFL Draft Mobility Assistance Program.
The Mobility Hotline is available by phone (888-745-1455) or by email at nfldraftmobility@gmail.com. Please note, the phone hotline is currently set up to accept voicemail only and will be checked periodically. The hotline will be live from April 17 to April 29.
Transportation information and other details will continue to evolve as we get closer to the 2023 NFL Draft presented by Bud Light. Please return to this page and be sure to check with local providers for the most updated schedules and transportation availability as the NFL Draft approaches, April 27 to April 29.
For More NFL Draft coverage, click here.
Copyright 2023 KCTV. All rights reserved.