With Earhart family in attendance, hangar museum dedicated to aviation pioneer opens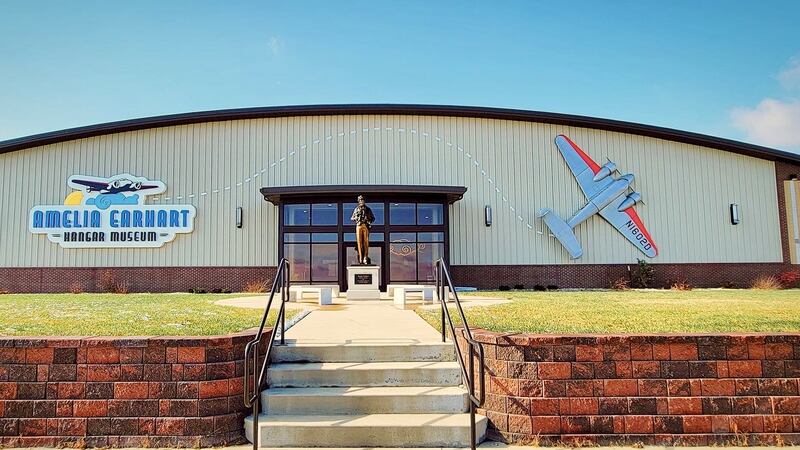 Published: Apr. 14, 2023 at 12:41 PM CDT
ATCHISON, Kan. (KCTV) - "It is an honor to bring Amelia's courageous and persevering legacy to life in her Atchison, Kansas, hometown."
The Amelia Earhart Hangar Museum opened Friday afternoon as the first and only museum in the country solely dedicated to Amelia Earhart's trailblazing aviation legacy. Some of the Earhart family was even in attendance.
"We're thrilled to celebrate our grand opening and welcome visitors of all ages to journey through Amelia Earhart's trailblazing life as a world-renowned aviator, innovator, educator and activist," founder and president of the Atchison Amelia Earhart Foundation Karen Seaberg said. "The Amelia Earhart Hangar Museum is dedicated to inspiring all generations in the pursuit of flight — and like Amelia, encouraging others to boldly pursue their dreams."
The centerpiece of the museum is the world's last remaining Lockheed Electra 10-E aircraft — Muriel. It was named after Earhart's younger sister, Grace Muriel Earhart Morrissey, and is identical to the plane Earhart flew on her final flight.
Museum visitors will have the opportunity to:
Enter a full-scale replica of Muriel's cockpit to experience Amelia's perspective from her "cozy cubbyhole"; compare Amelia's instrument panel to Garmin's G1000 avionic suite

Hear the roar of Amelia's Lockheed Electra 10-E aircraft's Pratt & Whitney R-1340 WASP engine; see a modern Pratt & Whitney Geared Turbofan come to life

Challenge their riveting skills to discover the precision required to forge the nearly 85,000 metal rivets that hold Muriel together

Flip through Amelia's digitized scrapbook to see stories of bold women who motivated her; meet "uplifting influencers" who helped Amelia reach for the stars

Create an avatar to try on Amelia's career paths as a nurse, mechanic, pilot and fashion designer

Go "above the clouds" to explore how Amelia and her navigator, Fred Noonan, relied on radio waves, a sextant and quick calculations

Turn on "Amelia's guiding lights" to see how constellations helped Amelia navigate the night sky

Trace 3D aircraft holograms through the history of flight — from unmanned gliders and biplanes to jet engines and space travel

Discover more "feminine feats" of trailblazing women in aviation — past and present

Pilot a virtual reality recreation of Amelia's historic 1932 transatlantic flight to try navigating obstacles she overcame to make history (ticketed experience)

Explore theories and cast votes on what happened to Amelia and Fred Noonan in July 1937 when their plane disappeared over the South Pacific
"Amelia Earhart was a true Kansas pioneer who exemplified our state motto: Ad Astra Per Aspera: 'To The Stars through Difficulty,'" U.S. Senator Jerry Moran stated. "The new Amelia Earhart Hangar Museum will be a place for visitors of all ages to learn and be inspired by Amelia's tenacious spirit of exploration that continues to be exemplified all across Kansas."
Museum tickets can be purchased for the following:
Adults $15 (plus tax) per person

Seniors (60+) and Military $12 (plus tax) per person

Children Ages (ages 4-12) $8 per person (plus tax) per person

Children (3 and under) Free

Virtual Reality Flight $5 per person (plus tax) per person
Copyright 2023 KCTV. All rights reserved.