Gov. Kelly celebrates opening of newly-improved southwestern Kansas railroad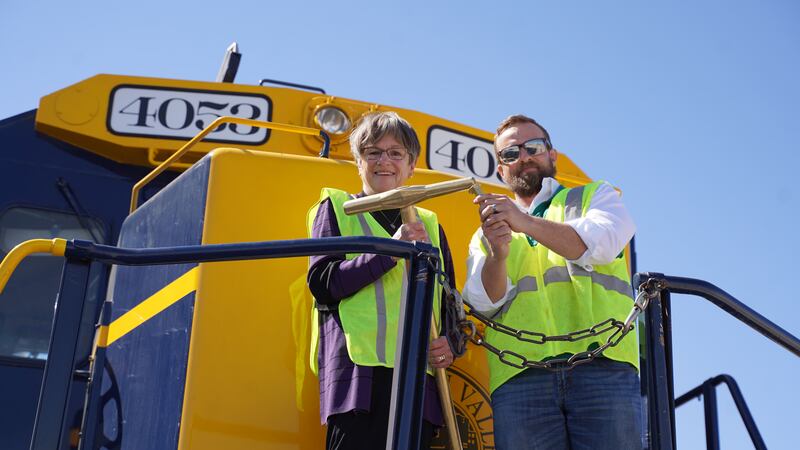 Published: Apr. 12, 2023 at 1:28 PM CDT
HUGOTON, Kan. (WIBW) - Governor Laura Kelly helped celebrate the opening of a newly-improved section of railroad in southwestern Kansas.
On Wednesday, April 12, Kansas Governor Laura Kelly says she attended the groundbreaking ceremony for improvements to the Cimarron Valley Railroad in southwest Kansas spanning from Dodge City to Hugoton. The effort was awarded nearly $15 million from both private and public sources - including the federal Consolidated Rail Infrastructure and Safety Improvements fund and the Kansas Department of Transportation - to complete the upgrade.
"These upgrades are not just an investment in our infrastructure, but an investment in our agriculture industry – and our economy as a whole," Gov. Kelly said. "By rehabilitating over 85 miles of an essential rail line in southwest Kansas, this project will make it easier and more efficient for local businesses to transport biodiesel and other agricultural products."
Kelly noted that she directly advocated for the project's grant application to the Federal Railroad Administration.
"The Cimarron Valley Railroad has been committed to transporting Kansas-grown goods across the country and the world in a safe, environmentally friendly, and cost-efficient way for over two decades. These funds will help us continue to do that," said Nathan Champion, President of the Cimarron Valley Railroad. "We are thankful for the partnerships – both public and private – that have helped make these upgrades happen to ensure uninterrupted transportation of essential goods throughout local, national, and international markets."
The Governor indicated that state legislators also attended the event.
"Upgrading the Cimarron Valley Railroad is essential to keeping our communities connected and their economies thriving," said Representative David Younger. "Investing in our rural areas will improve rail operations, our economic competitiveness, and safety in the region and statewide. This is a great day for Southwest Kansas and our state as a whole."
Kelly said the upgrades are beneficial to the agriculture community. She said the funds will transform the line into an efficient agricultural thoroughfare that will connect Kansas to more markets. Freight is crucial to Kansas agricultural communities and these upgrades ensure it remains one of the safest, most efficient modes of transportation at their disposal.
Copyright 2023 WIBW. All rights reserved.