19-year-old arrested, charged in Leavenworth High School student's death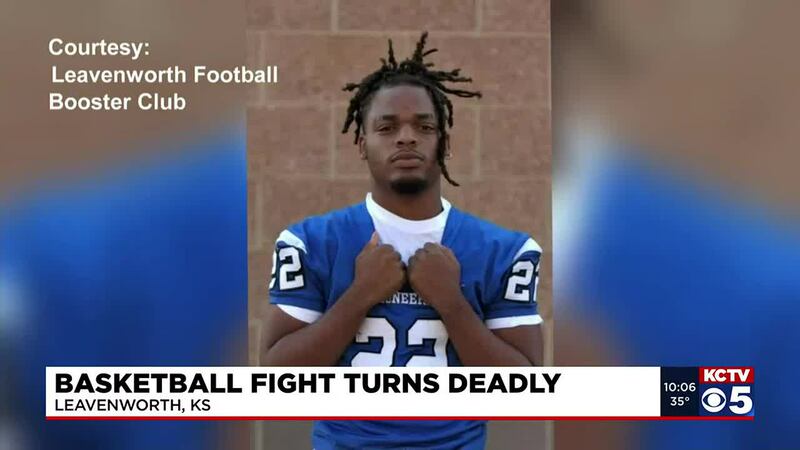 Published: Feb. 9, 2023 at 10:13 AM CST
LEAVENWORTH, Ks. (KCTV) - A 19-year-old man has been arrested and charged in a Leavenworth High School football player's death, which stemmed from a fight during a pickup basketball game.
Police had been searching for the homicide suspect since the deadly encounter Monday. On Thursday morning, Leavenworth police announced that the suspect had been found and arrested overnight in Grandview, Missouri.
On Thursday afternoon, the prosecutor's office stated that Ismael Caleb Salinas-Richardson has been charged with the level 5 person felony of involuntary manslaughter.
"A manslaughter charge is one where there is an unintentional killing," the prosecutor's office noted. "An involuntary manslaughter is a killing done recklessly, a person making 'a substantial and unjustifiable risk that circumstances exist or that result will follow.'"
This investigation began Monday, when officers were called to a disturbance near 6th Street and Shawnee Street in Leavenworth. The investigation revealed an argument had started during a basketball game, then continued outside.
When police arrived, they discovered 18-year-old Eric Miller had critical injuries. He was rushed to a local hospital.
On Wednesday, Leavenworth Police Chief Pat Kitchens said, "We learned late last night, around 11 p.m., that the young man had succumbed to his injuries and passed away. It changed from a disturbance call to homicide investigation."
The Leavenworth Football Booster Club shared a statement Tuesday night that said, in part: "It is with heavy hearts and deep sadness that we share that Eric Miller, our loved senior #22, has passed this evening. We thank everyone who has provided their prayers and well wishes."
The police said witnesses helped them identify the 19-year-old suspect. Officers and area law enforcement then began trying to locate the suspect.
"I would encourage that young man to turn himself in," Chief Kitchens had said Wednesday. "It's already been a tragedy, but let's avoid any further difficulties. We'd like the young man to turn himself in as soon as he can."
As previously stated, the suspect now identified as Salinas-Richardson was found an arrested in Grandview.
Copyright 2023 KCTV. All rights reserved.