Kansas 988 centers see spike in calls, consistently low abandon rate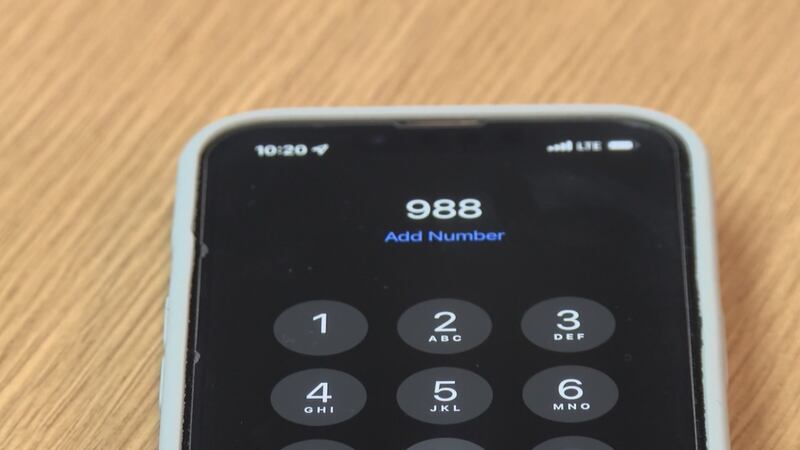 Published: Feb. 1, 2023 at 12:01 PM CST
TOPEKA, Kan. (WIBW) - In its first six months of operation, 988 call centers in Kansas have seen a spike in calls for help as well as consistently low rates of abandoned calls.
On Wednesday, Feb. 1, Kansas Governor Laura Kelly says that since the 988 Suicide and Crisis Lifeline was launched in July, it has seen a nearly 27% increase in call volume compared to the previous six months.
Based on national projections, Gov. Kelly indicated that Kansas is expected to reach 120,000 calls in the first full year of operation.
In June 2022, Kelly noted that she signed Senate Bill 19, bipartisan legislation to create the state's three-digit dialing code for the National Suicide Prevention Lifeline. The hotline has been backed by federal funds, with the idea that just like 911, she said 988 is easier to remember in a crisis.
"The successes we are seeing with the implementation of 9-8-8 are a reflection that when Kansas leaders come together to invest in mental health, more Kansans can access essential care," Kelly said. "I continue to encourage Kansans to tell their families, friends, and neighbors that this resource is here for them whenever they need it."
Now, the Governor said calls, texts or chats to 988 that involve thoughts of suicide, mental health or substance use crises, as well as other kinds of emotional distress are available all day every day. She said callers can also get the immediate support of mobile crisis teams in case of extreme risk, referral to local mental health services and resources for follow-up care.
"One of the key things we're trying to do through 9-8-8 is increase access to mental health services and resources," Kansas Department for Aging and Disability Services (KDADS) Secretary Laura Howard said. "Youth experiencing mental health crises are acclimated to communicating with peers and adults through text or chat rather than by phone, so these formats go a long way to help meet these young people where they are, using a method they feel comfortable with."
Data from Vibrant indicates that the current administrator of the 988 Suicide and Crisis Lifeline, 988 centers in the state have maintained an in-state call-answer rate of 85% to 91% month over month during the increased call volume.
Kelly noted that other states have struggled with call volume which causes higher rates of sending calls to an out-of-state center. Just a few years ago, she said Kansas answered about 60% of NSPL calls in-state with many rolling over to national backup centers.
The Governor also said the Sunflower State has faired better than regional peers on its "abandon" rate - the number of calls that disconnect before a counselor is spoken to. That rate has consistently remained below 10%.
"Since 9-8-8 launched six months ago, this new mental health tool has proven to be an invaluable resource for people in crisis," KDADS Behavioral Health Services Commissioner Andy Brown said. "The continued commitment by Governor Kelly, the state legislature, and our agency, with help from our state call centers and strategic marketing partners, ensures Kansans have easy-to-use access to the help they need all day, every day."
In Kansas, Kelly indicated that 988 centers are independently operated. She said they get additional state funds and oversight from KDADS and the 988 Coordinating Council she appointed last fall.
Kelly said the Kansas Suicide Prevention HQ reports that funds have allowed it to hire for both chat/text and calls to increase the capability to receive calls from Kansans and plan for expanded access in digital chats.
"Overall, we've been able to hire more support in the call center to help take calls, manage resources and work on mobile response across the state," Sarah Robertson, Communications and Development at KSPHQ, said.
The Governor noted that her administration has also worked to ensure Kansans know that the new resource is available.
"Our team is very proud to partner with KDADS to create and place messaging that supports the mental health of all Kansans," Ronnie Murphy, Mammoth Creative Company Vice President of Client Strategy, said.
Copyright 2023 WIBW. All rights reserved.