Washburn students dazzle with biomedical research at statewide symposium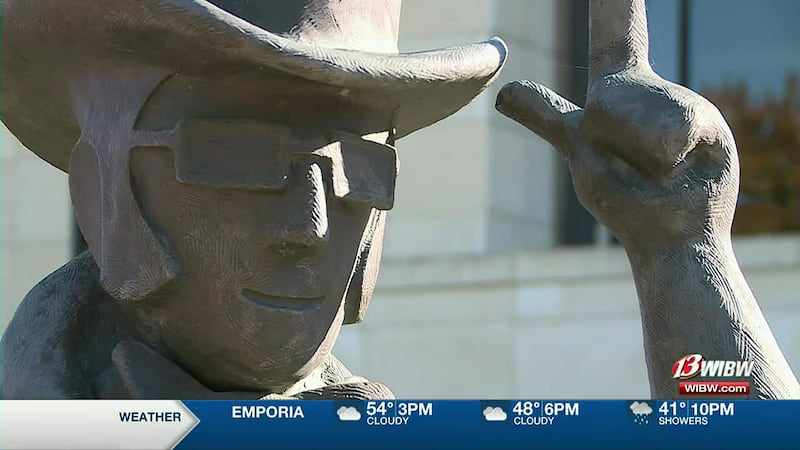 Published: Jan. 19, 2023 at 8:44 AM CST
TOPEKA, Kan. (WIBW) - Washburn students dazzled spectators and judges alike with their biomedical research at a statewide research symposium.
Washburn University says that during the weekend of Jan. 14, students who study biology, chemistry and physics presented their research at the 21st annual Kansas IDeA Network of Biomedical Research Excellence Symposium.
The University noted that Manish Batta, a student, earned one of the 10 Oustanding Poster Presentation Awards. It also said Avinash Dhimal was chosen to give one of the eight undergraduate student oral presentations and six other students presented in the poster session.
"Doing the research, preparing for and presenting at conferences like this is a practical application of their education. This helps our students further prepare for their next steps after graduation," said Dr. Sam Leung, professor of chemistry and K-INBRE campus coordinator at Washburn University. "Every year our students attend the Kansas INBRE Symposium to present their research side-by-side with students from other universities. This gives them experience in presenting at a major conference and opportunities to network with the students and faculty from other universities."
The following students and faculty presented at the symposium:
Alisha Bajracharya, senior: "Investigating LDH Gene in Colorectal Cancer from cBioPortal Database" (Research Mentor: Dr. Allan Ayella, assistant chemistry professor for Washburn University)

Manish Bhatta, senior: "Development and Characterization of Malonic Acid Modified Gold Nanoparticles for Colorimetric Analysis of Lead ions (Pb2+)" (Research Mentor: Dr. Seid Adem, associate chemistry professor for Washburn University)

Avinash Dhimal, senior: "Graphene-based Quantum Dot Synthesis for Bioimaging" (Research Mentor: Dr. Hoang Nguyen, assistant chemistry professor for Washburn University)

Abigail Fette, senior: "Isolation and Identification of Microbes from Commercial Kombucha" (Research Mentor: Dr. Susan Bjerke, associate biology professor for Washburn University)

Lauren Moore, senior: "Determining the Apoptotic Timeline During ALA-mediated PDT of Breast Cancer Cells in vitro via Digital Fourier Holographic Microscopy and Optical Scatter Imaging" (Research Mentor: Dr. Vince Rossi, assistant professor in physics and astronomy for Washburn University)

Girish Paudyal, sophomore: "Micro Fabry-Perot Cavity for Chemical Characterization of Nanoscale Particles" (Research Mentor: Dr. Hoang Nguyen)

Simran Shrestha, senior: "Lactate Dehydrogenase Gene Knockout Using CRISPR/CAS9 System in Colon Cancer Cells" (Research Mentor: Dr. Allan Ayella)

Dr. Vince Rossi: "Digital Holographic Microscopy as a Tool for Non-invasive, Real-time Measurement of Cellular Dynamics"
Washburn indicated that the symposium was held at the Sheraton Hotel in Overland Park with about 340 attendees from 10 universities in Kansas and Oklahoma. It is a professional research meeting with he goal of providing an opportunity for scientists to present their original research in both poster and oral formats.
Copyright 2023 WIBW. All rights reserved.