No. 2 Kansas rally from double digit deficit to top Oklahoma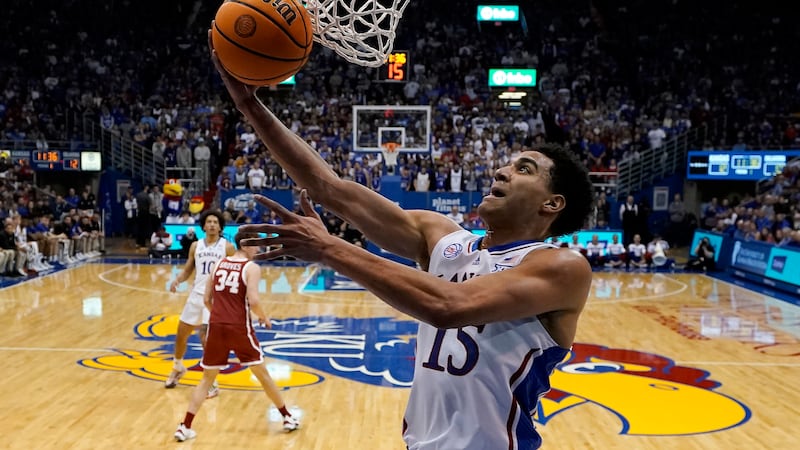 Published: Jan. 10, 2023 at 10:19 PM CST
LAWRENCE, Kan. (WIBW) - The Jayhawks struggled most of the way against the Sooners but they rally to top Oklahoma, 79-75
Zach Clemence was a nice surprise, scoring eight points for KU in the first half. Jalen Wilson was kept at bay, scoring his first basket 18 minutes into the game.
KJ Adams Jr. had 10 points while Dajuan Harris Jr. had six but Gradey Dick was held to just his lone three point field goal. There were 12 lead changes in the first half alone.
Grant Sherfield for Oklahoma hit a shot just before the buzzer at the half which Kansas led 36-34.
The Jayhawks could not seem to figure out Oklahoma in the second half either, as they trailed 71-61 after a Bill Self timeout with 5:17 left in the game.
Sherfield led the way with 25 for the Sooners and they shot 53 percent as a team while KU shot just 34 percent.
Jalen Wilson hit a big three to make it 71-66 Sooners with 4:12 left in the game and a Dajuan Harris Jr. layup made it a three point game with just over three minutes to play.
KU would bring it within a point after dunk from Adams making it 73-72 Oklahoma, and a three point play from Kevin McCullar Jr. put the icing on the cake.
Adams finished with a career-high 22 and they make a ferious comeback to get their 15th win on the season.
Copyright 2023 WIBW. All rights reserved.