CBSSports.com Royals pitcher Yordano Ventura lasted five innings Wednesday against the Rays.
Ventura ran into big issues with his control, and it wound up hurting him in a big way. In the fourth inning, Ventura gave up a single and two walks to load the bases. With two outs, he allowed a grand slam to Kevin Kiermaier. He lasted just one more inning before being pulled. Ventura tossed 104 pitches during the start.
Ventura gave up four earned runs on five hits over five innings. He walked four and struck out five during the appearance. The Royals managed to come back and win the game, saddling Ventura with a no-decision. It's unclear where he'll slot into the team's rotation following the All-Star break.
And watch this awesome GIF of the ball going right through Hosmer's glove.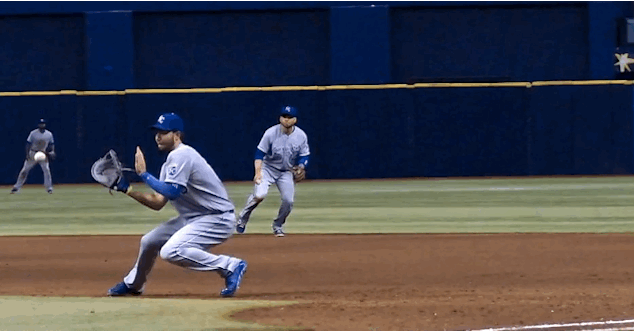 Royals reliever Greg Holland managed to pick up a save Wednesday.
The Royals managed a major comeback in the ninth inning, providing Holland with a save opportunity. He tossed a perfect inning, striking out two en route to his 24th save. Holland has a 1.87 ERA.