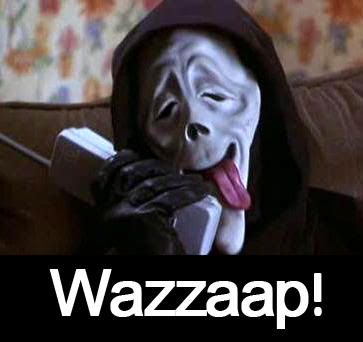 "Hi Grandma," I said loudly while on the highway.
"Wazzaap," She replied.
"What?" I asked, thinking I didn't hear her clearly.
"Wazzaap?" She repeated.
"What?" I asked again.
"WAZZAAP" She said louder.
"Grandma No! Where did you learn to talk like that?" I asked in disbelief.
"Madison taught me," She said with an odd sense of assurance. (Madison is my cousins 6-year-old daughter)
"Grandma, You can't be talking like that, really, you're too old to speak that way," I said with a stern voice.
"Well I did say it and I think it sounds just fine old or not," She shot back, "Wazzaap," she repeated with pride.
"You're kidding me right now," I said laughing. "I can't believe this.......look at this family I am from. This is why I am the way I am.
-------------later in the conversation-------------
"A man drowned out at Walled Lake yesterday," she said.
"Oh no, really? How old was he?" I asked.
"I don't know."
"How did the accident happen?"
"I' don't know that either."
"How many people were on board?"
"Not sure."
"Well grandma where did you hear the story?
"I read it in the newspaper?"
"Well what was it just a headline," I said with sarcasm.
"Hey there....I just don't remember it all."
"We go live tonight from 13 News to Waterford Michigan with Barbra Dorman with details on a drowning Barbra?" I said mocking what I sound like on the news. She played along.........
"Yes, Mr. Dorman, Thank you for having me on. A man drowned at Walled Lake yesterday," She said and stopped.
"That's all tonight from Waterford. Barbra Dorman reporting for us thank you for those astonishing details," I said no with more sarcasm then ever.
"You're welcome," she said laughing so hard. "I guess you didn't get your talent from this side of the family.
---------------------------------
Gosh, I love her so much. Stories like this I will forever remember. She is one-of-a-kind!